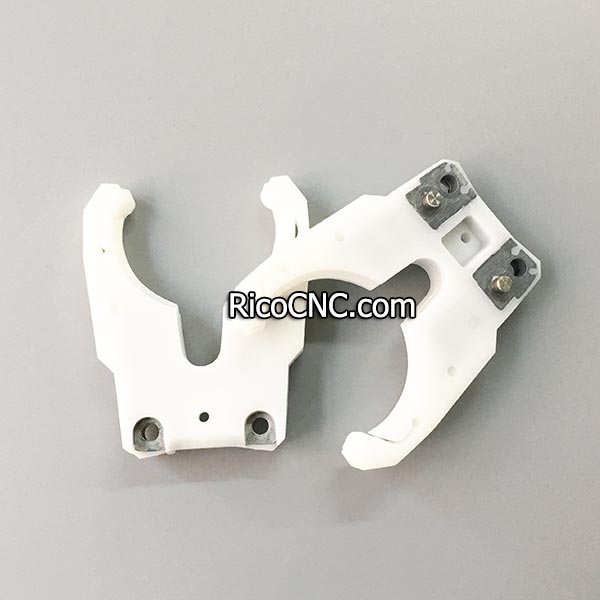 1705A0123 HSK F63 Tool Holder Clips for Biesse Rover CNC

This Biesse 1705A0123 spare part is the consumable of Biesse Rover CNC. HSK 63F tool fork is for the HSK63F tool holder clamping, used with carousel or side loading tool changer. NANXING Machine Part No.: 81400350, NCG2812L-0542.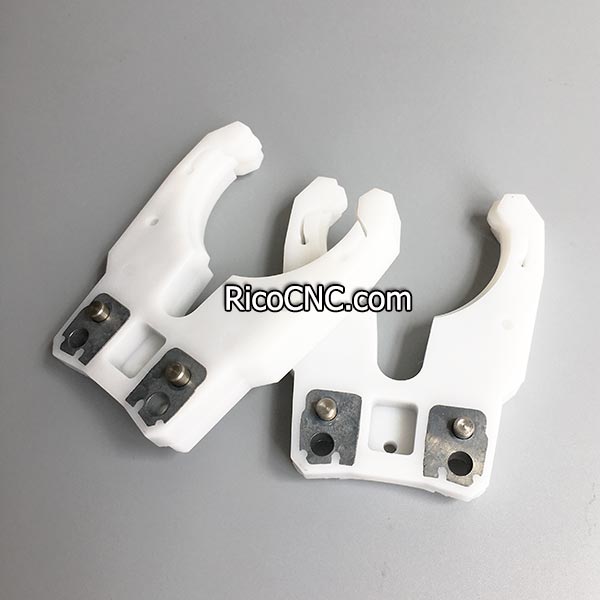 HSK63F Tool Holder Forks Specifications:
1. Made in China, famous brand
2. Imported USA Dupont white plastic material, high quality, reinforced and anti-explosion.
3. The tool holder clips are resistant to the temperature changes and maintain very precise clutch tolerance.
4. Alloy steel block casting inside, reinforced structure, has high loading capacity, also with steel positioning pins.
4. Dynamic balance grade: G2.5, 30000rpm
5. Yaw precision: 0.005mm
6. Loading capacity: 8-10kgs
7. Last more than 60,000 times tool changing cycles. We have tested.
8. The same material as Italy fork used. The outlook is up to 95% same as Italy made. Lifetime can up to more than 90% of Italy made.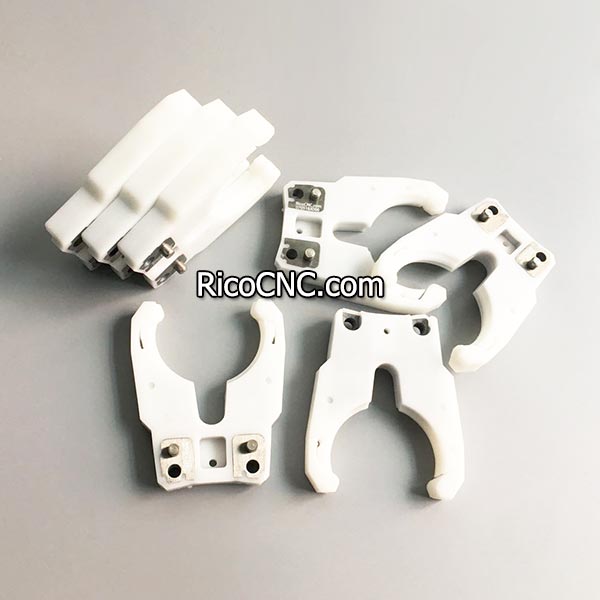 HSK63 plastic grippers are available in stock for quick delivery.
Molded plastic with metal insert for rigidity and locking pin for aggregates also are available here.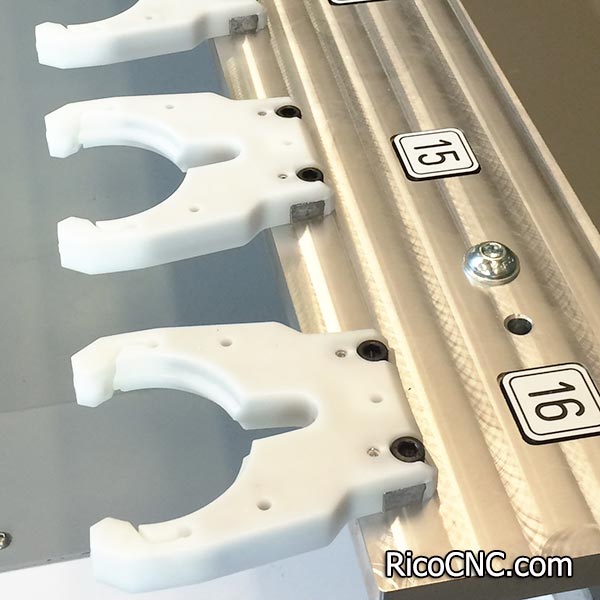 Beside used on Biesse Rover CNC machines, these tool changer grippers are also widely used on CNT Motion, CR Onsrud, DMS, Flexicam, Multicam, Northwood, Techno, Laguna, Thermwood, Bulleri, ITALMAC Zeus, KDT, Masterwood auto tool changer CNC router machines. They are an exact interchange tool holder gripper.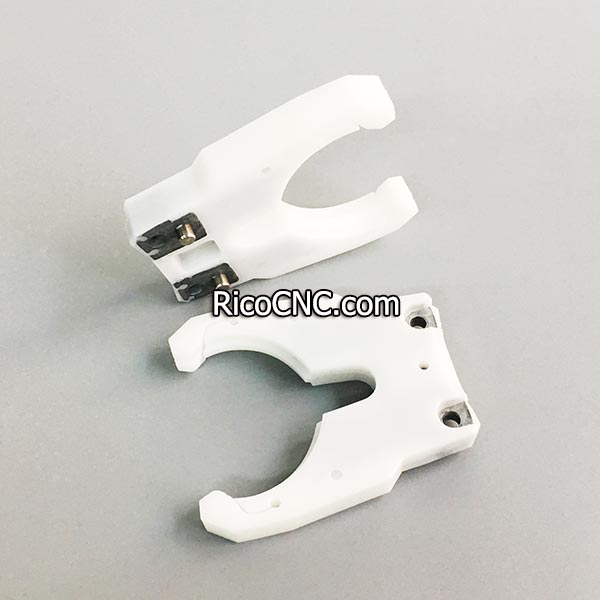 Maintenance: CNC tool fingers wear out over time. If the HSK spindle is not clamping the tool properly, it may be the tool fork is worn which causes alignment issues. Always insert and remove tool holders laterally. Tool forks should be mounted in an area to reduce the exposure to cutting chips and debris as much as possible. Replace if worn or damaged. The tool holders and spindle cone taper must be maintained as well. A clean taper, free of debris and burrs will help prevent the tool from sticking. Apply a light coat anti-seize compound to the taper on a regular basis.
Note: Never blow compressed air into the spindle taper.
Compatibility: Can be used with all HSK 63F tool holders.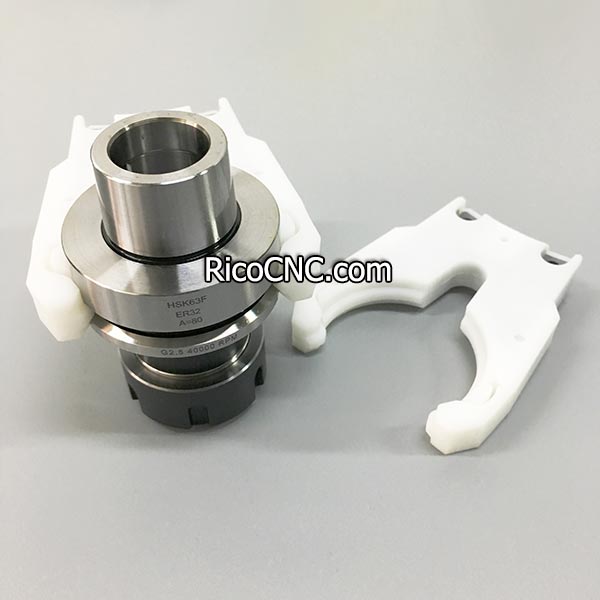 RicoCNC is a reliable source for CNC & woodworking machines, we supply a range of spare parts for Biesse, Homag, IMA, SCM, etc.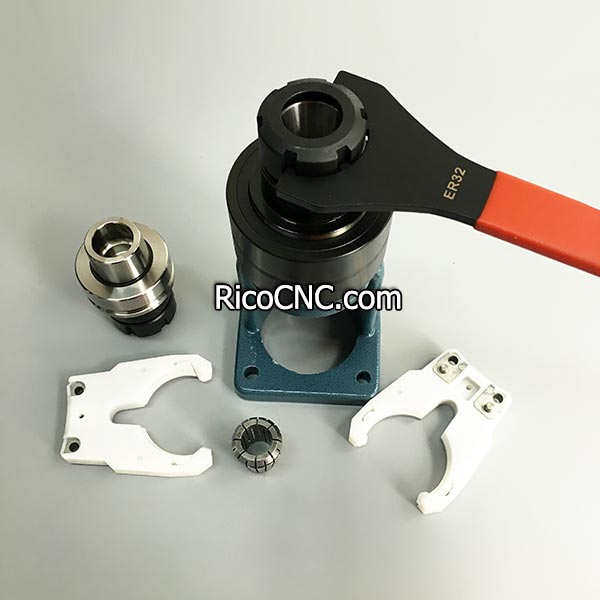 If any needs, welcome your inquiry.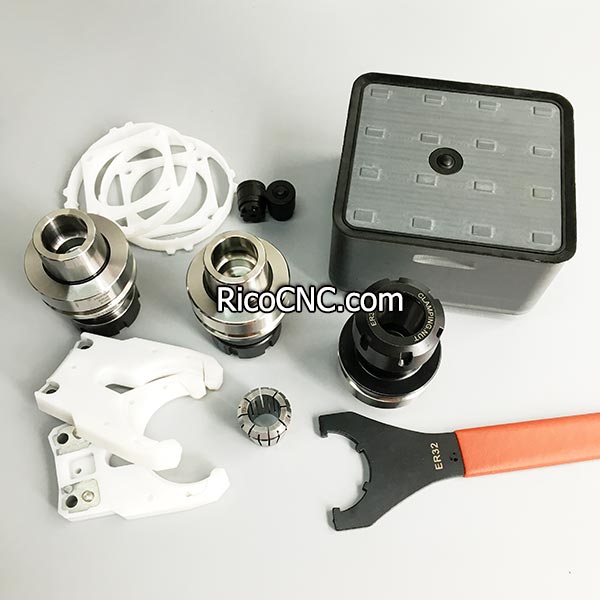 Contact Us