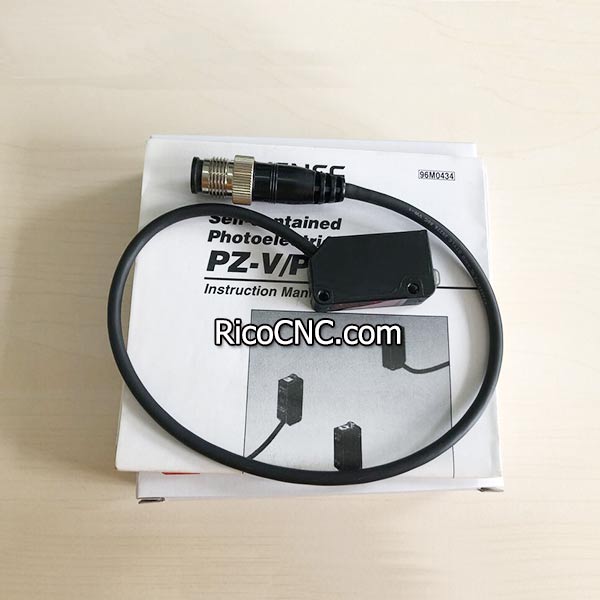 Keyence PZ-V33P Photoelectric Sensor Retro Reflective Sensor
-PZ-V33P
-Manufactured by KEYENCE CORP
-PHOTOELECTRIC SENSOR
-PHOTO REFLECTIVE SWITCH
-M12 CONNECTOR TYPE
-PNP
-4 PIN MALE CONNECTOR
-RED LED LIGHT SOURCE
-12 TO 24 V DC +-10%
Model: PZ-V33P
Type: Multi reflective model (M12 connector cable type)
Output: PNP
Detecting distance: 5 to 300 mm0.20" x 11.81" (100 x 100 mm3.94" x 3.94"white mat paper)*1
Setting distance: 40 to 300 mm1.57" to 11.81" (100 x 100 mm3.94" x 3.94"white mat paper)
Light source.: Red LED
Sensitivity adjustment: Automatic push button
Response time: 1 ms max.
Operation mode: LIGHT-ON/DARK-ON (switch-selectable)
Indicator lamp: Output: orange LED, stable operation: green LED
Control output: Maximum PNP open-collector output: 100 mA (26.4 V or less), residual voltage: 1 V or less
Digital monitor: 7-segment, 3-digit red LED
Protection circuit: Reversed polarity, overcurrent protection, surge absorber
Power voltage: 12 to 24 VDC ±10 %, Ripple (P-P) 10 % or less
Power consumption: 37 mA max.
Case material: Glass-fiber reinforced plastic
Weight: Approx. 25 g
RicoCNC is a reliable CNC and industrial automation spare parts supplier based in China. You can find a number of CNC machine parts here, such as CNC tool holders, collets, nuts, pull stud, collet spanner, toolholder tightening fixture, cnc tooling systems, tool holder forks, CNC machining center parts and edge banding machine parts.
Welcome to contact us if any inquires for automation parts!
Contact Us