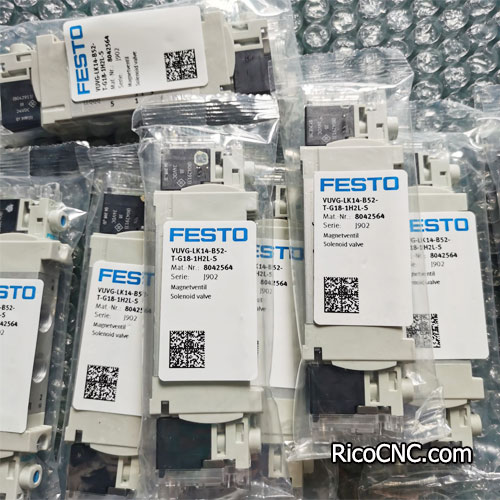 FESTO Solenoid Valve VUVG-LK14-B52-T-G18-1H2L-S
Solenoid Valve 5/2-way valve, bistable 24VDC 14mm Port G1/8 VUVG Series.
Model: VUVG-LK14-B52-T-G18-1H2L-S
Besides, we have VUVG-LK14-B52-T-G18-1H2L-W1-S
-VUVGLK14B52TG181H2LS
-SOLENOID VALVE
-VUVG SERIES
-5/2
-BISTABLE VALVE FUNCTION
-ELECTRICAL ACTUATION
-14 MM VALVE SIZE
-660 L/MIN STANDARD NOMINAL FLOW RATE
-G1/8 PNEUMATIC WORKING PORT
-1.5-7 BAR OPERATING PRESSURE
-PILOT-CONTROLLED
-8042564
RicoCNC supplys all kinds of woodworking spare tools, like Biesse machine parts, Homag machine parts, SCM machine parts, CNC woodworking tools, edgebander machine parts, and CNC panel beam saw parts.

Welcome to contact us if any needs or inquiries.
Contact Us