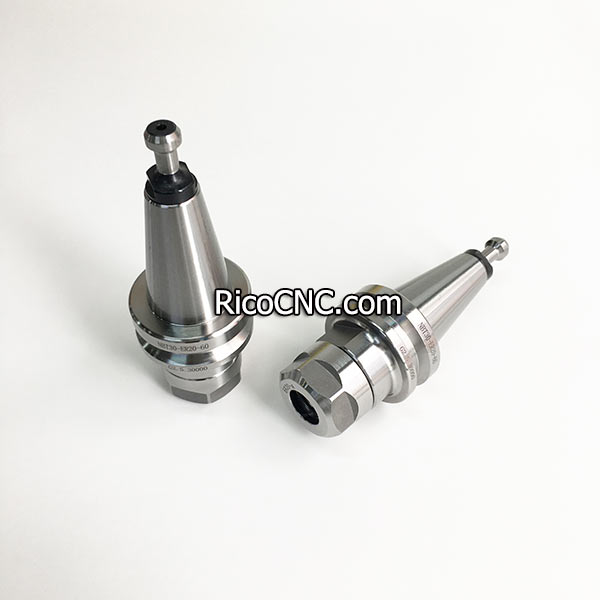 NBT30-ER20-60L Tool Holder without Drive Slots Keyways for BT30 ATC Spindle CNC Machines

This ATC toolholding system is NBT30-ER20-60L tool holder without keyway. It can replace the Parfaite BT30N-ER20-060 tool holder. NBT30 ER20 tool holder comes with retention knobs and collet nut, widely used for CNC machining center, woodworking CNC routers, robot tool changer. It is suitable for high speed working, balanced to G2.5 30,000rpm.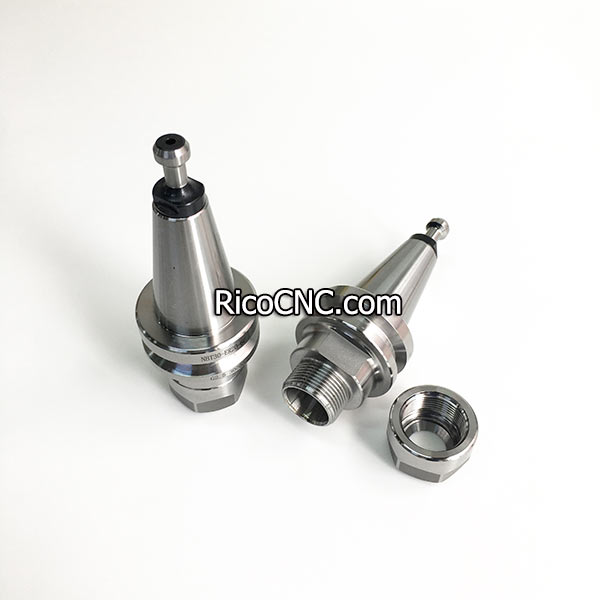 This is BT30 tool holder, called NBT30 tool holder, which is used to make a distinction between BT30 tool holder with keyway. Because for NBT30 tool holder, there aren't two notches on either side of the holder.

NBT30 collet chuck is also called Non-keyway BT30 tool holder cone, BT30 toolholder without keyway and BT30 tool holder without drive slots. CNC tool holder cones without keyways have better accuracy and balance at high-speed rotating.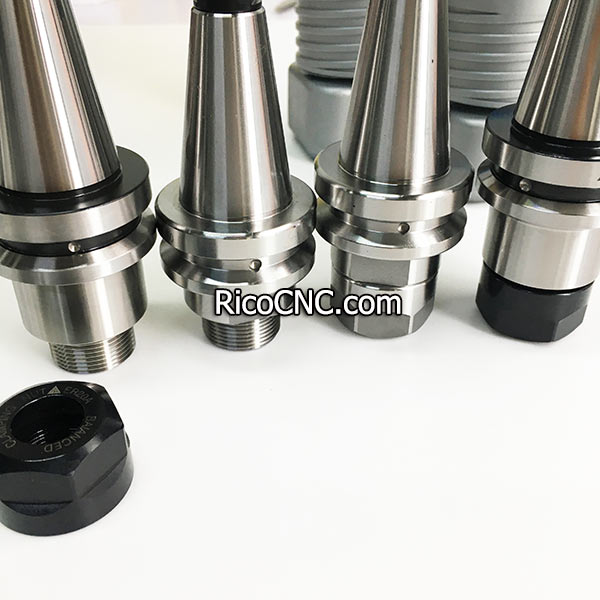 This NBT30 endmill tool holder is widely used on CNC router machines, CNC milling machines which are equipped with BT30 automatic tool changer spindle. You can easy to find it on auto tool changer CNC router like Laguna Smart Shop 2, Kuka CNC robotics, etc.

The 30 taper tool holders are very common and are usually referred to as a BT30 or an ISO30. They are very similar in appearance. So please be careful when you choose a tool holder for a CNC router.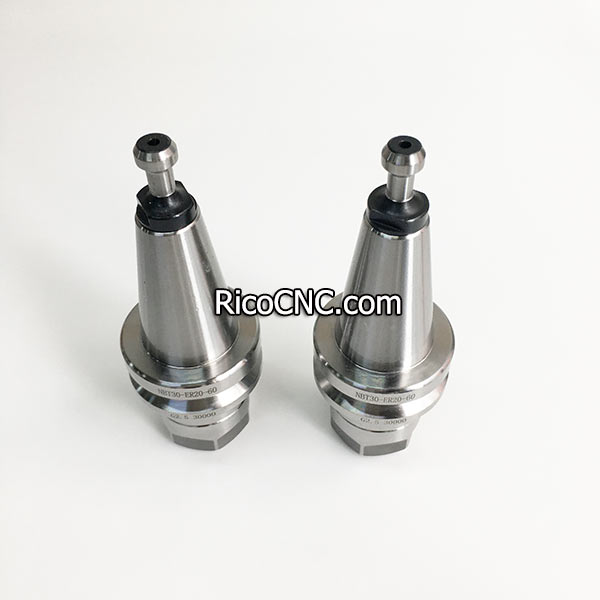 NBT30-ER20-60L Tool Holder Features:
Without keyway
Collet chuck model: NBT30-ER20-60L
BT30 tool changer collet Size: ER20
Material: 20CrMnTi
Balanced: 30,000rpm, G2.5
Complete with BT30 pull stud and collet nut
Country of Origin: China
Application: Can be used on CNC milling machines with BT30 spindles.
All tool holders are provided with the pull stud and the nut.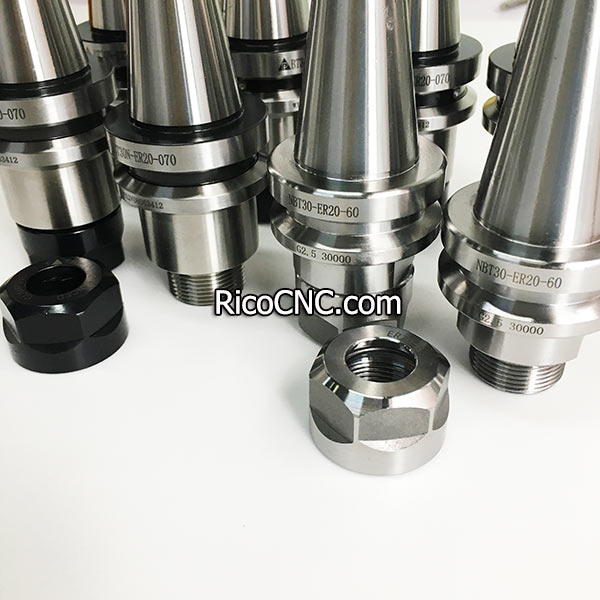 NBT30-ER32, BT30N-ER20 tool holders also are available in stock for quick delivery.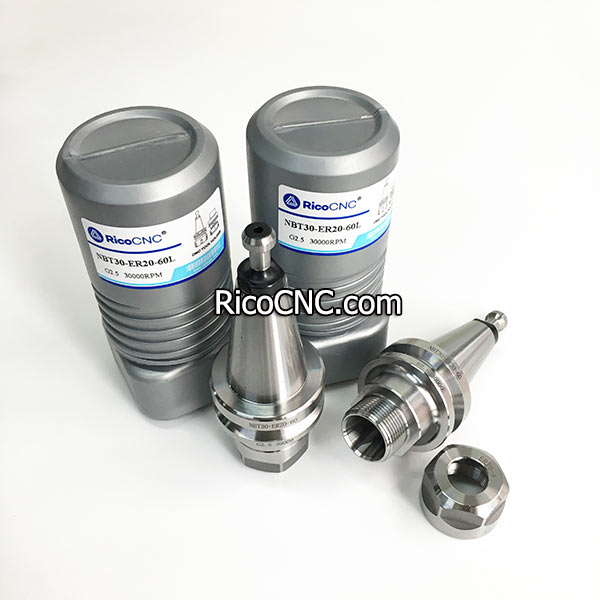 RICO CNC is a global supplier of CNC machine accessories. You can find a comprehensive range of CNC parts and tools, such as CNC tool holder clips, CNC collets, collet nut, pull stud, CNC cutting tools, CNC suction cups, edgebander replacements, beam saw accessories, etc.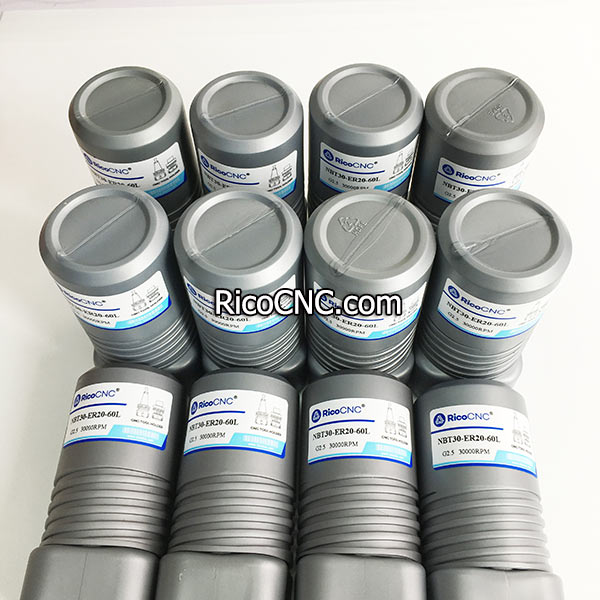 We know parts are very important for CNC machines. Our mission is to find the best CNC machine parts and deliver them to our customers, which can reduce machine downtime. If you are looking for CNC parts, welcome to contact us. We ship worldwide.


Contact Us