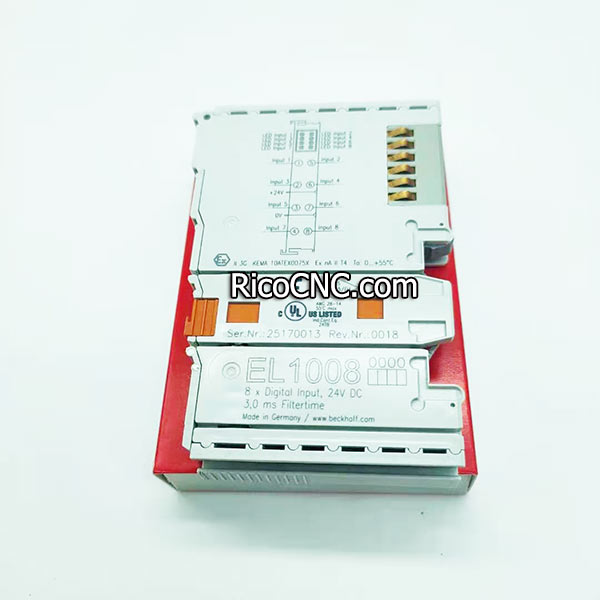 BECKHOFF EL1008 PLC Module Input Terminal
EL10080900
INPUT TERMINAL
8-CHANNEL
DIGITAL
24 V DC
FI LTER 3.0 MS
1-WIRESYSTEM
CONFORMAL COATED PCB
Manufacturer: Beckhoff
Type: 8-Channel Digital Input Terminal
Model: EL1008
Number of Inputs: 8
Nominal Voltage: 24 VDC
"0" Signal Voltage: -3 … +5 V
"1" Signal Voltage: 11 … 30 V
Input Current: 3 mA
Input Filter: 3.0 ms
Current Consumption Power Contacts: 2 mA + load
Current Consumption E-Bus: 90 mA
Electrical Isolation: 500 V
Operating/Storage Temperature: -25 … +60 °C/-40 … +85 °C
Protection Class: IP 20
Besides, we have more models: EK1100, EL1008, EL2008, EL9410, EL6731, EL6751, EL1018, EL6910, EL5001, EL9011, EL1809, EL2809, EL1889, EL2889, EL2521, EL1004, EL2004, EL1859, EL4004, EL6752, EL3054, EL6021, EL6631, EL6652.
RicoCNC is a reliable CNC spare parts supplier based in China. You can find a number of CNC machine parts here, such as CNC tool holders, collets, nuts, pull stud, collet spanner, toolholder tightening fixture, tool holder forks, CNC machining center parts and edge banding machine parts.
Welcome to contact us if any inquires!
Contact Us