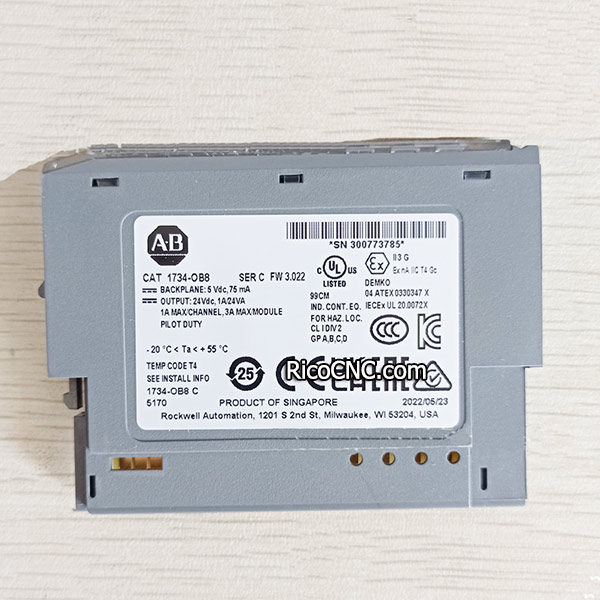 Allen Bradley 1734-OB8 POINT I/O 8 Point Digital Output Module
The Allen-Bradley 1734-OB8 is a POINT IO module that features Eight (8) Discrete, non-isolated sourcing output channels. It has One (1) group of channels with Eight (8) outputs per channel. It delivers a nominal actuating voltage of 24VDC and compatible with any POINT IO communication adapter for implementing distributed I/O architecture. This module requires 1734-TB or 1734-TBS wiring base assembly.
Technical Specifications for 1734-OB8
Manufacturer: Rockwell Automation
Power Dissipation: 2.0 Watt/6.8 BTU/hour
POINTBus Current: 75 mA
Output Voltage: 24 Volts DC
Module Type: Digital DC Sourcing Output
Series: POINT I/O
Part Number/Catalog No.: 1734-OB8
Brand: Allen-Bradley
No. of outputs: 8; Sourcing output
Output Voltage range: 10-28.8VDC
Dimensions: 56 x 12 x 75.5 mm (2.2 x 0.47 x 2.97 in.)
Weight, approx.: 35.4 g (1.25 oz)
Module Location:1734-TB or 1734-TBS wiring base assembly
Outputs:8
Output Current: 3 amps/module
RicoCNC is a professional supplier of industrial parts and automation parts. Welcome to your inquiry!
Contact Us