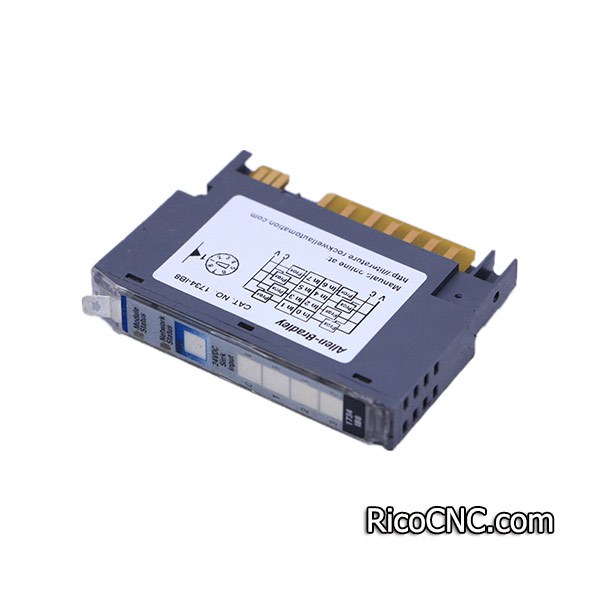 Allen-Bradley 1734-IB8 POINT Digital DC Input Module 24V DC 8Ch Sink
The Allen-Bradley 1734-IB8 is a POINT IO module that features Eight (8) Discrete sinking input channels. It has One (1) group of channels with Eight (8) inputs per channel. It accepts nominal signal voltage of 24VDC and compatible with any POINT IO communication adapter for implementing distributed I/O architecture. This module requires 1734-TB or 1734-TBS wiring base assembly.
Technical Specifications for 1734-IB8
Manufacturer: Rockwell Automation
Power Dissipation: 1.6 Watt/5.5 BTU/hour
Power Dissipation: 1.6 Watt/5.5 BTU/hour
POINTBus Current: 75 mA
Input Voltage: 24 Volts DC
Module Type: Digital DC Sinking Input
Series: POINT I/O
Part Number/Catalog No.: 1734-IB8
Brand: Allen-Bradley
No. of Inputs: 8; Sinking input
Input Voltage range: 10-28.8VDC
Input Current range: 2-5mA
Dimensions: 56 x 12 x 75.5 mm (2.2 x 0.47 x 2.97 in.)
Weight, approx.: 31.8 g (1.12 oz)
Inputs: 8
RicoCNC is a professional supplier of industrial parts and automation parts. Welcome to your inquiry!
Contact Us