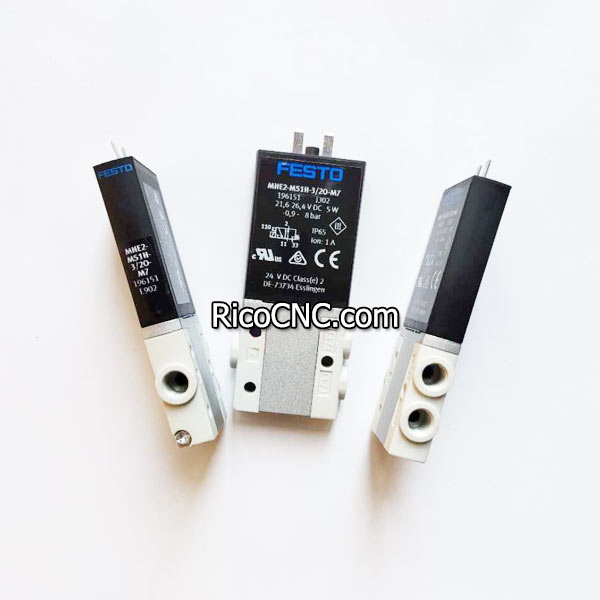 FESTO MHE2-M1H-3/20-M7 Solenoid Valves 196150 Fast-switching Valves
This is brand new and original FESTO MHE2-M1H-3/20-M7 solenoid valve 196150.
Model: MHE2-M1H-3/20-M7
Air solenoid valve MHE2-M1H-3/2G-M7-K
Valve function: 3/2, closed, monostable
Actuation type: Electrical
Width: 10 mm
Standard nominal flow rate: 100 l/min
Pneumatic working port: M7
Operating voltage: 24V DC
Operating pressure: -0.09 MPa ... 0.8 MPa
Operating pressure: -0.9 bar ... 8 bar
Structural design: Pressure-relieved poppet valve
Reset method: Mechanical spring
Degree of protection: IP55
Nominal width: 2 mm
Width dimension: 14 mm
Note on grid dimension: Minimum distance between the valves is 4 mm
Exhaust air function: With flow control option
Sealing principle: Soft
Mounting position: Any
Type of control: Direct
Flow direction Reversible with restrictions
Max. switching frequency: 130 Hz
Switching time off: 3.5 ms
On switching time: 7 ms
RicoCNC is a reliable CNC and industrial automation spare parts supplier based in China. You can find a number of CNC machine parts here, such as CNC tool holders, collets, nuts, pull stud, collet spanner, toolholder tightening fixture, cnc tooling systems, tool holder forks, CNC machining center parts and edge banding machine parts.
Welcome to contact us if any inquires for automation parts!
Contact Us