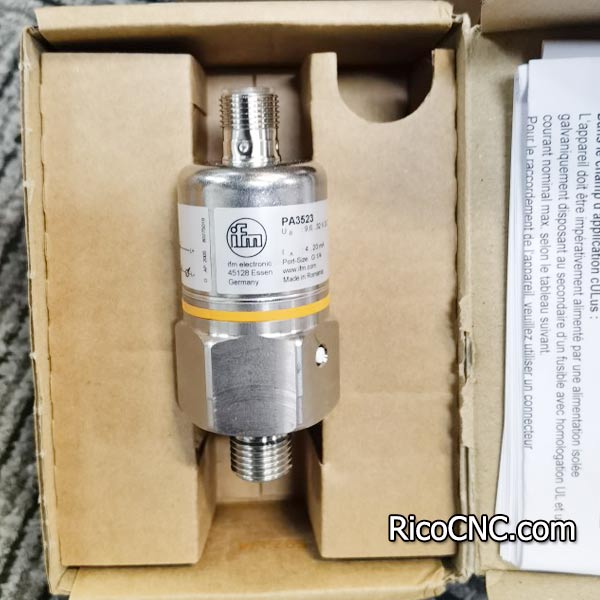 IFM Electronic PA3523 Pressure Sensors PA-025-RBG14-A-ZVG/US/ /V Pressure transmitter
This is IFM Electronic pressure sensor pressure transmitter.
Model: PA3523 (PA-025-RBG14-A-ZVG/US/ /V)
-Precise linear 4...20 mA output signal
-High repeatability and low linearity error
-With long-term stability thanks to high overload protection
-Robust stainless steel housing for use in harsh industrial environments
-Wide operating temperature range
Application:
System: gold-plated contacts
Application: for industrial applications
Media: liquids and gases
Medium temperature [°C]: -25...90; (on request: -40...90 °C)
Min. bursting pressure: 350 bar/5075 psi/35 MPa
Pressure rating: 150 bar/2175 psi/15 Mpa
Type of pressure: relative pressure
Electrical data:
Operating voltage [V]: 9.6...32 DC
Min. insulation resistance [MΩ] : 100; (500 V DC)
Inputs / outputs:
Number of inputs and outputs: Number of analog outputs: 1
Outputs:
Total number of outputs: 1
Output signal: analog signal
Number of analog outputs : 1
Analog current output [mA]: 4...20
Max. load [Ω]: 720; (Ub = 24 V; (Ub - 9,6 V) / 20 mA)
Overload protection: yes
RicoCNC is a reliable CNC spare parts supplier based in China. You can find a number of CNC machine parts here, such as CNC tool holders, collets, nuts, pull stud, collet spanner, toolholder tightening fixture, tool holder forks, CNC machining center parts and edge banding machine parts.
Welcome to contact us if any inquires!
Contact Us