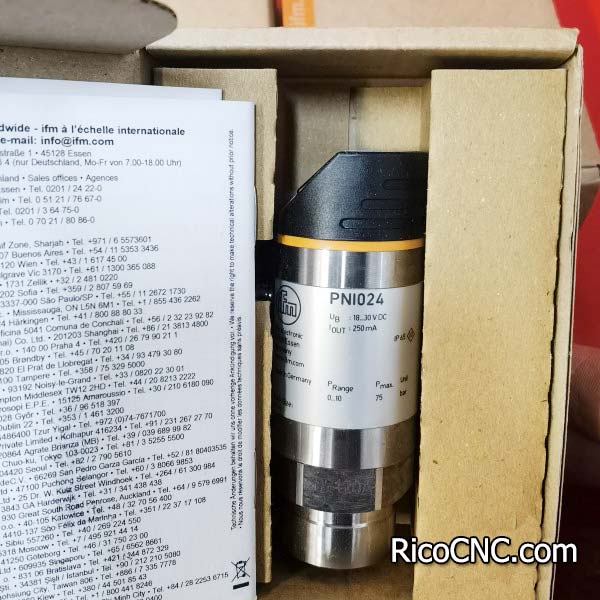 IFM Electronic PNI024 Pressure Sensor with Analog Input PNI010-RBR14-QFRKG/US/ /V
This is original IFM Electronic pressure sensor with analog input.
Model: PNI024 (PNI010-RBR14-QFRKG/US/ /V)
-Evaluation of external voltage or current values
-Continuous comparison of set/actual values directly in the sensor
-Automatic adjustment of the switch point
-Clearly visible numerical display
-Efficient differential pressure monitoring
Product characteristics
Number of inputs and outputs:Number of digital outputs: 2
Measuring range [bar]: 0...10
Process connection: threaded connection G 1/4 Internal thread
System:gold-plated contacts
Application: for industrial applications
Media: liquids and gases
Medium temperature [°C]:-25...80
Min. bursting pressure [bar]: 150
Pressure rating [bar]: 50
Type of pressure:relative pressure
Operating voltage [V]:18...30 DC
Current consumption [mA]:< 90
Min. insulation resistance [MΩ]:100; (500 V DC)
Power-on delay time [s]:0.2
Inputs
Analog input (current) [mA]: 0...20
Max. load [Ω]: 300
Analog input (voltage) [V]:0...10
Min. load resistance [Ω]: 90000
Outputs
Total number of outputs:2
Output signal: switching signal
Electrical design: PNP/NPN
Number of digital outputs:2
Output function: normally open / closed; (configurable)
Max. voltage drop switching output DC [V]: 2
Permanent current rating of switching output DC [mA]: 250
Switching frequency DC [Hz]: < 170
RicoCNC is a reliable CNC spare parts supplier based in China. You can find a number of CNC machine parts here, such as CNC tool holders, collets, nuts, pull stud, collet spanner, toolholder tightening fixture, tool holder forks, CNC machining center parts and edge banding machine parts.
Welcome to contact us if any inquires!
Contact Us