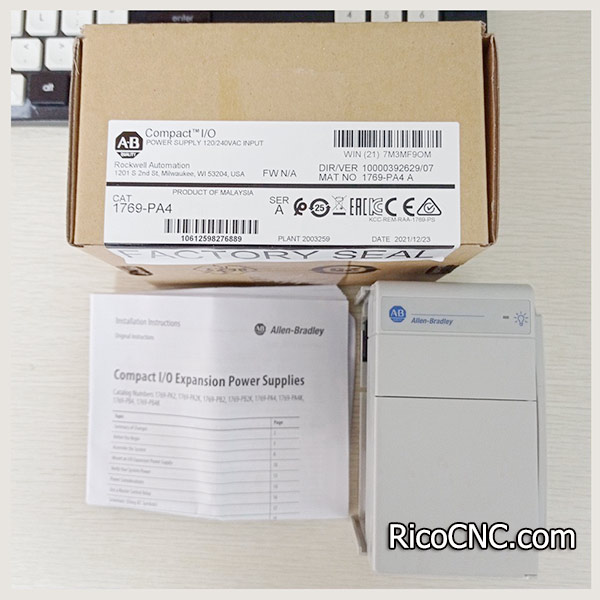 Allen-Bradley 1769-PA4 Compact I/O Module Power Supply 120/240VAC Input
The Allen-Bradley 1769-PA4 is a 1769 CompactLogix Power Supply. This Power Supply has a selectable input voltage range of 85 - 265VAC or 170-265 VAC. It has a nominal input of 120V/220V AC. The module's Current capacity of 4.0A at 5.0V and 2.8A at 24VDC.
Manufacturer: Rockwell Automation / Allen-Bradley
Brand: Allen-Bradley
Part Number/Catalog No.: 1769-PA4
Product Line: CompactLogix
Product Type: I/O Power Supply
Module Type: AC Power Supply Module
Input Power: 120 Volts AC
Input Voltage range: 85…265V AC or 170...265V AC, switch selectable
Power Supply Distance Rating: 8; 8 I/O modules can be connected on either side of the power supply for a maximum of 16 module.
Input frequency range: 47…63 Hz
Power consumption:200 VA @ 120V AC 240 VA @ 240V AC
Power dissipation: 8 W @ 60 °C (140 °F)
Series: A and B
Current capacity @ 5V DC:4.0 A
Current capacity @ 24V DC: 2.0 A
Wire Type: Copper wire withstanding 90 degrees Celsius
Inrush current, max: 25 A @ 132V AC
Solid Wire Size: 22 to 14 AWG
Fuse type: Littelfuse 02153.15MXP; Wickmann 19195-3.15A
Input Frequency: 47 to 63 Hertz
Dimensions (HxWxD), approx.:118 x 70 x 87 mm (4.65 x 2.76 x 3.43 in.) height including mounting tabs is 138 mm (5.43 in.)
Stranded Wire Size: 22 to 16 AWG
Weight: 525 g (1.16 lb)
RicoCNC is a reliable CNC and industrial automation spare parts supplier based in China. You can find a number of CNC machine parts here, such as CNC tool holders, collets, nuts, pull stud, collet spanner, toolholder tightening fixture, cnc tooling systems, tool holder forks, CNC machining center parts and edge banding machine parts.
Welcome to contact us if any inquires for automation parts!
Contact Us